These homemade banana chocolate chip cookie bars can be made with just a few simple ingredients – NO eggs required!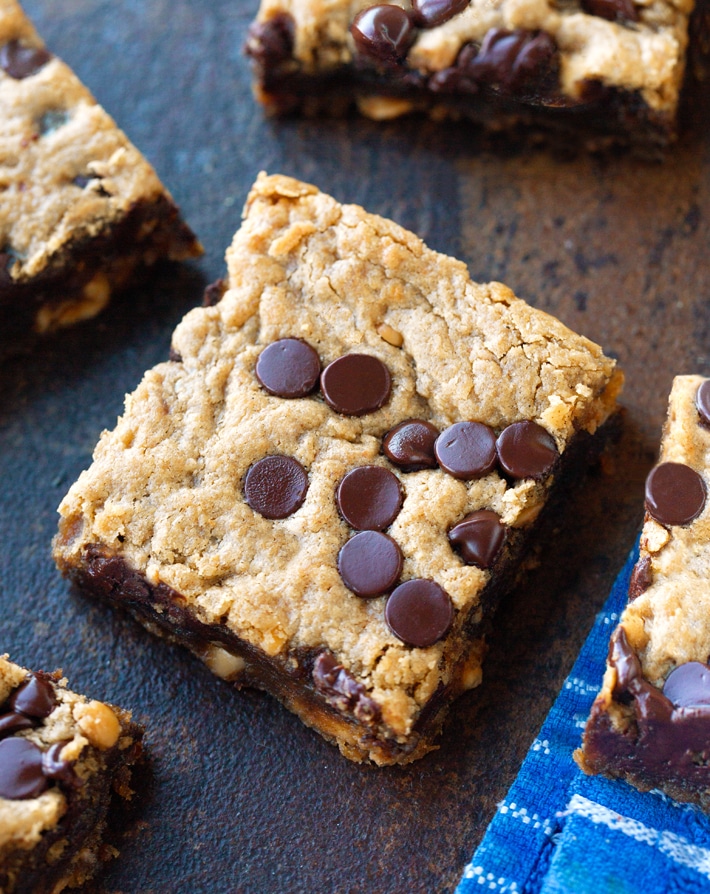 So… if you've already made banana bread 1000 times in the past month and can't even look at another banana bread, hopefully you will be happy to see a recipe that is NOT BANANA BREAD.
These soft and gooey chocolate chip cookie bars are even better than banana bread, because they're like combining banana bread batter and classic Toll House chocolate chip cookies.
Also Try These Vegan Chocolate Chip Cookies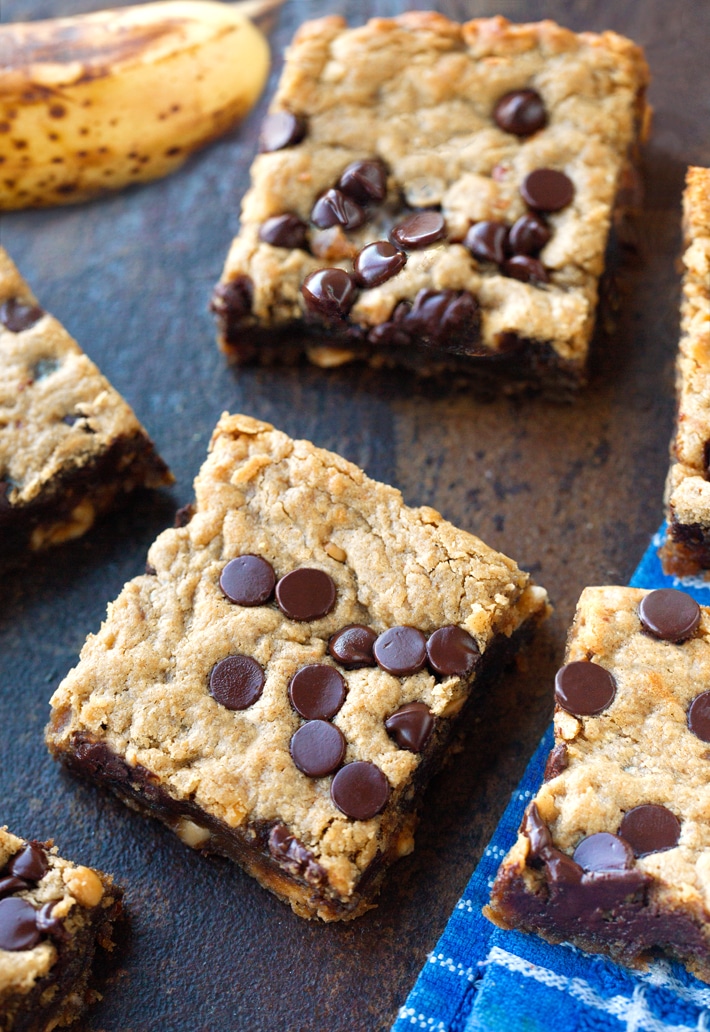 Leftover bars (if there are any leftovers!) can even be stored in the freezer, for a ready-to-go treat any time you're craving homemade chocolate chip cookies.
If you skip the banana bread and make a batch of these banana chocolate chip cookie bars instead, you will not regret it.
The chocolate chip bars can be oil free, dairy free, gluten free, and vegan.
And the best part is that they give you a ton of customization options if you can't find one or more of the ingredients.
So there's no excuse not to make them!
(If you reaaalllllly want to make banana bread instead, this Healthy Banana Bread recipe is my favorite.)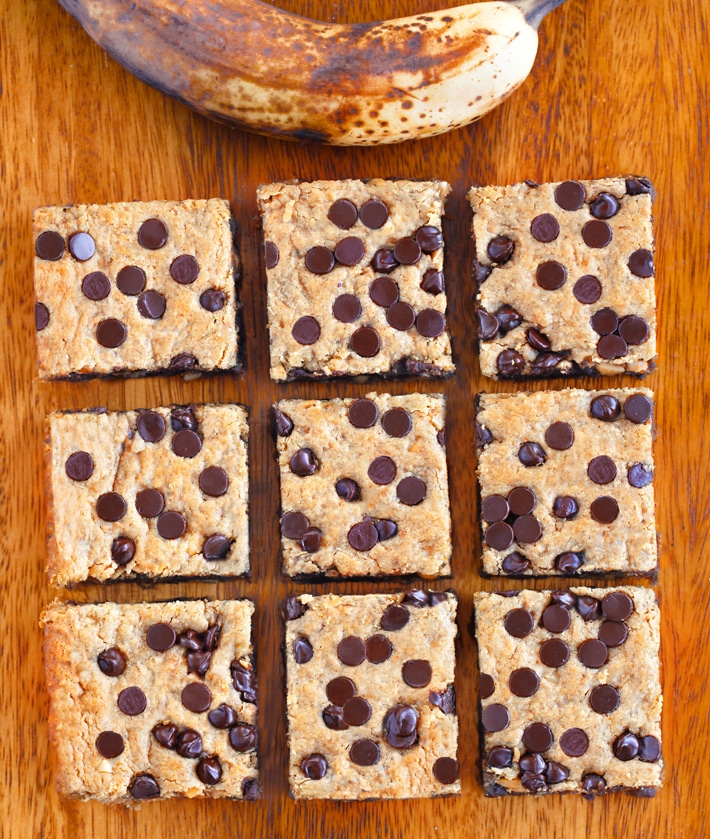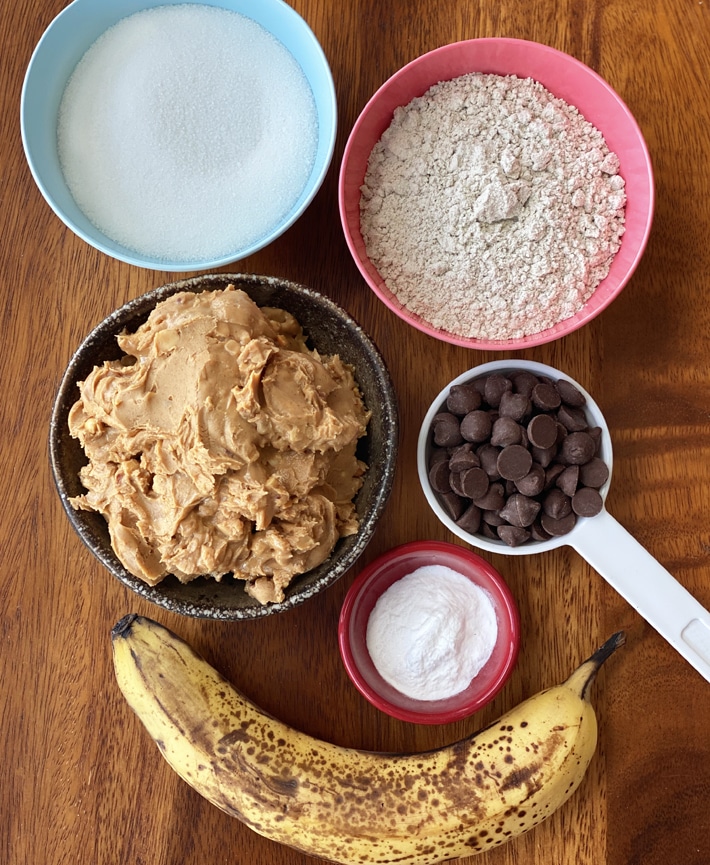 Recipe Substitution Notes:
For a non-banana version, you can substitute an equal amount of applesauce, yogurt, or canned pumpkin and increase the sugar to 1 cup.
1/2 cup banana is about one large, but it's a good idea to buy two just in case. If you have leftover banana, you can always turn it into Banana Ice Cream!
Choose peanut butter if a peanut butter flavor is desired. Or use almond or cashew butter for a more neutral flavor. Sunflower butter works for a nut-free option.
Most flours work just fine in this recipe, including spelt, all purpose, oat, almond flour, or sorghum flour. I haven't tried coconut flour here, so feel free to experiment at your own risk, and be sure to report back if you do!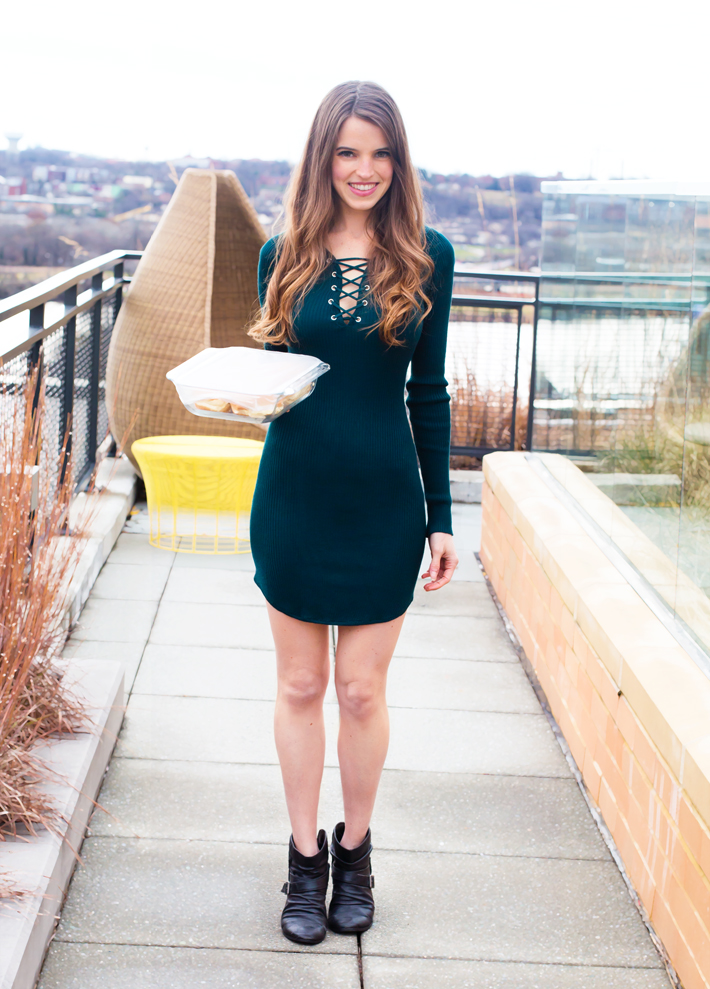 Above – watch the video of how to make the chocolate chip banana bars



1/2

cup

mashed banana

1/2

cup

milk of choice

2

cups

peanut or almond butter, 

or allergy friendly sub

3/4

cup

flour,

such as oat, white, spelt, sorghum, or almond

1

tbsp

baking soda

1/4

tsp

salt

3/4

cup

sugar, unrefined if desired,

or xylitol for sugar free

1/2

cup

chocolate chips, 

plus more for the top if desired
Preheat the oven to 350 F. Line a 9×13 pan with parchment. Stir all ingredients very well. (Watch the recipe video above to see the bars being made.) Use a second sheet of parchment on top to smooth the batter evenly into the pan. If desired, add more chocolate chips to the top. Bake 20 minutes. They will look underdone – let them cool for an hour or so, during which time they firm up.

View Nutrition Facts
More Recipes With Banana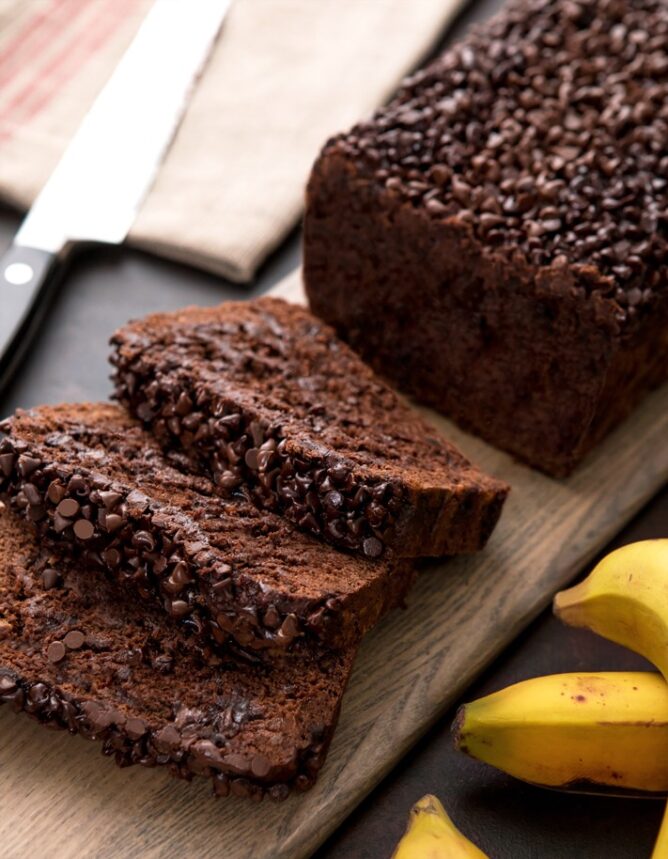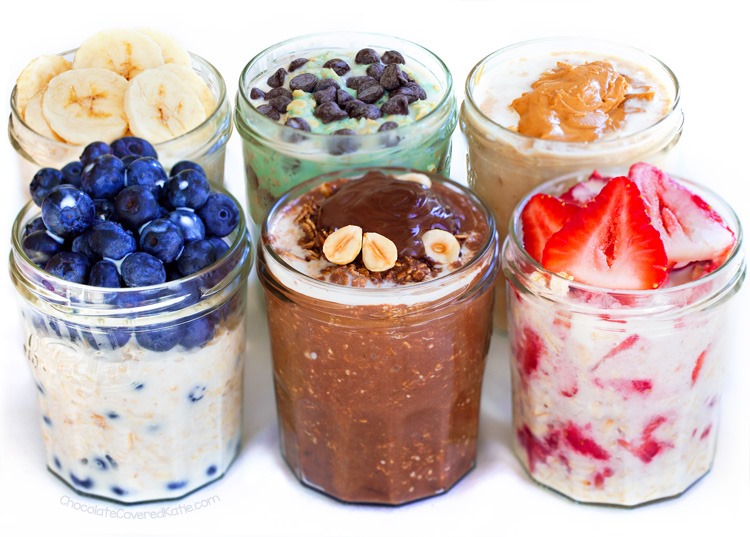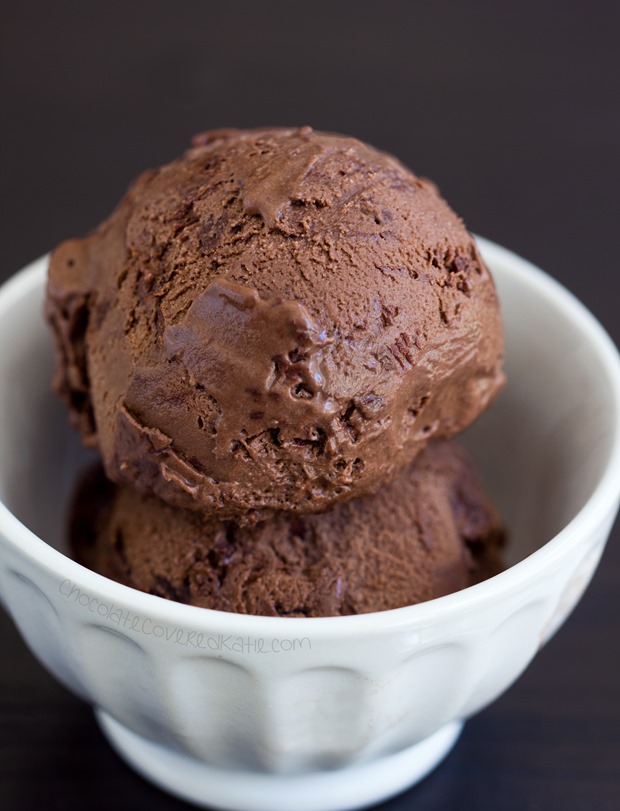 Chocolate Peanut Butter Nice Cream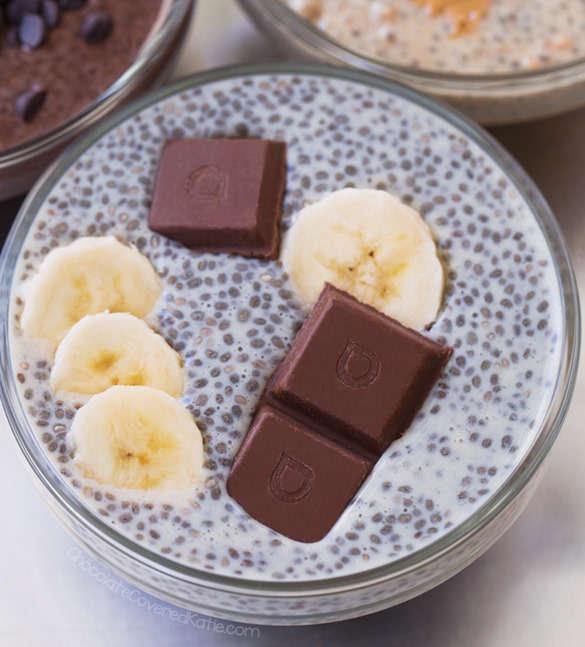 Chia Pudding Recipes – 5 New Flavors
Chocolate Chip Banana Bread Bars… Chocolate Chip Banana Snack Bars… Gooey Chocolate Chip Banana Bars… Gooey Banana Chocolate Chip Cookie Bars

5/5 (1)