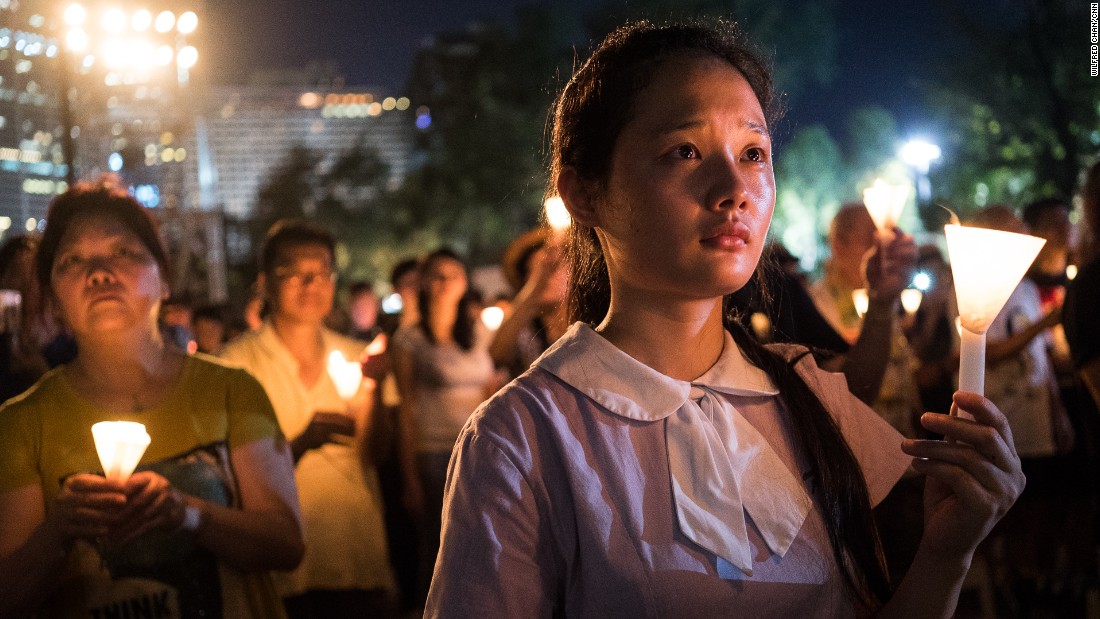 On Monday,
police refused permission for this year's rally
, citing ongoing restrictions on mass gatherings related to the coronavirus pandemic. For many in the democratic opposition, the justification rings hollow: organizers had said they would work with the authorities to ensure a safe and socially-distanced rally, and meanwhile the city's shopping districts, subway, and public parks have been open for weeks with little issue.
Speaking to reporters after the ban was announced, Lee said the police were "suppressing our vigil under the pretense of executing the gathering ban."
The decision by police carries extra weight as many already feared this week
might be the last opportunity
to freely mark the anniversary. Last month, China announced that it would impose a national security law on Hong Kong, in response to widespread and often violent anti-government unrest last year.
The law criminalizes secession, sedition and subversion. It also permits Chinese security services to operate in Hong Kong for the first time — leading to fears among many in the city that members of the PLA could be deployed onto the streets should protests resume.
The Hong Kong Alliance in Support of Patriotic Democratic Movements in China, the group co-founded by Lee which has organized the Tiananmen vigil every year since 1990,
has warned that it could be banned
under the new national security law, pointing to its previous support of activists convicted under similar national security laws in China and a longstanding opposition to "one party dictatorship."
There is good reason to believe the vigil may be banned in future. Last month, CY Leung, the city's former chief executive and high-ranking member of a Chinese government advisory body,
predicted just as much
, while a commemoration in neighboring Macao — which already has an national security law on the books — has also
been blocked by authorities
.
On Thursday, police
reiterated
that they had refused permission for two gatherings on June 4, one on Hong Kong Island and another in Kowloon, and warned members of the public "to stay at home and avoid travelling to crowded places or participating in prohibited gatherings."
');$vidEndSlate.removeClass('video__end-slate–inactive').addClass('video__end-slate–active');}};CNN.autoPlayVideoExist = (CNN.autoPlayVideoExist === true) ? true : false;var configObj = {thumb: 'none',video: 'tv/2020/05/31/exp-gps-0531-patten-lee-hong-kong-security-law-duplicate-2.cnn',width: '100%',height: '100%',section: 'domestic',profile: 'expansion',network: 'cnn',markupId: 'body-text_20',theoplayer: {allowNativeFullscreen: true},adsection: 'const-article-inpage',frameWidth: '100%',frameHeight: '100%',posterImageOverride: {"mini":{"width":220,"type":"jpg","uri":"//cdn.cnn.com/cnnnext/dam/assets/200531130243-exp-gps-0531-patten-lee-hong-kong-security-law-duplicate-2-00002001-small-169.jpg","height":124},"xsmall":{"width":307,"type":"jpg","uri":"//cdn.cnn.com/cnnnext/dam/assets/200531130243-exp-gps-0531-patten-lee-hong-kong-security-law-duplicate-2-00002001-medium-plus-169.jpg","height":173},"small":{"width":460,"type":"jpg","uri":"//cdn.cnn.com/cnnnext/dam/assets/200531130243-exp-gps-0531-patten-lee-hong-kong-security-law-duplicate-2-00002001-large-169.jpg","height":259},"medium":{"width":780,"type":"jpg","uri":"//cdn.cnn.com/cnnnext/dam/assets/200531130243-exp-gps-0531-patten-lee-hong-kong-security-law-duplicate-2-00002001-exlarge-169.jpg","height":438},"large":{"width":1100,"type":"jpg","uri":"//cdn.cnn.com/cnnnext/dam/assets/200531130243-exp-gps-0531-patten-lee-hong-kong-security-law-duplicate-2-00002001-super-169.jpg","height":619},"full16x9″:{"width":1600,"type":"jpg","uri":"//cdn.cnn.com/cnnnext/dam/assets/200531130243-exp-gps-0531-patten-lee-hong-kong-security-law-duplicate-2-00002001-full-169.jpg","height":900},"mini1x1″:{"width":120,"type":"jpg","uri":"//cdn.cnn.com/cnnnext/dam/assets/200531130243-exp-gps-0531-patten-lee-hong-kong-security-law-duplicate-2-00002001-small-11.jpg","height":120}}},autoStartVideo = false,isVideoReplayClicked = false,callbackObj,containerEl,currentVideoCollection = [],currentVideoCollectionId = ",isLivePlayer = false,mediaMetadataCallbacks,mobilePinnedView = null,moveToNextTimeout,mutePlayerEnabled = false,nextVideoId = ",nextVideoUrl = ",turnOnFlashMessaging = false,videoPinner,videoEndSlateImpl;if (CNN.autoPlayVideoExist === false) {autoStartVideo = false;if (autoStartVideo === true) {if (turnOnFlashMessaging === true) {autoStartVideo = false;containerEl = jQuery(document.getElementById(configObj.markupId));CNN.VideoPlayer.showFlashSlate(containerEl);} else {CNN.autoPlayVideoExist = true;}}}configObj.autostart = CNN.Features.enableAutoplayBlock ? false : autoStartVideo;CNN.VideoPlayer.setPlayerProperties(configObj.markupId, autoStartVideo, isLivePlayer, isVideoReplayClicked, mutePlayerEnabled);CNN.VideoPlayer.setFirstVideoInCollection(currentVideoCollection, configObj.markupId);videoEndSlateImpl = new CNN.VideoEndSlate('body-text_20');function findNextVideo(currentVideoId) {var i,vidObj;if (currentVideoId && jQuery.isArray(currentVideoCollection) && currentVideoCollection.length > 0) {for (i = 0; i 0) {videoEndSlateImpl.showEndSlateForContainer();if (mobilePinnedView) {mobilePinnedView.disable();}}}}callbackObj = {onPlayerReady: function (containerId) {var playerInstance,containerClassId = '#' + containerId;CNN.VideoPlayer.handleInitialExpandableVideoState(containerId);CNN.VideoPlayer.handleAdOnCVPVisibilityChange(containerId, CNN.pageVis.isDocumentVisible());if (CNN.Features.enableMobileWebFloatingPlayer &&Modernizr &&(Modernizr.phone || Modernizr.mobile || Modernizr.tablet) &&CNN.VideoPlayer.getLibraryName(containerId) === 'fave' &&jQuery(containerClassId).parents('.js-pg-rail-tall__head').length > 0 &&CNN.contentModel.pageType === 'article') {playerInstance = FAVE.player.getInstance(containerId);mobilePinnedView = new CNN.MobilePinnedView({element: jQuery(containerClassId),enabled: false,transition: CNN.MobileWebFloatingPlayer.transition,onPin: function () {playerInstance.hideUI();},onUnpin: function () {playerInstance.showUI();},onPlayerClick: function () {if (mobilePinnedView) {playerInstance.enterFullscreen();playerInstance.showUI();}},onDismiss: function() {CNN.Videx.mobile.pinnedPlayer.disable();playerInstance.pause();}});/* Storing pinned view on CNN.Videx.mobile.pinnedPlayer So that all players can see the single pinned player */CNN.Videx = CNN.Videx || {};CNN.Videx.mobile = CNN.Videx.mobile || {};CNN.Videx.mobile.pinnedPlayer = mobilePinnedView;}if (Modernizr && !Modernizr.phone && !Modernizr.mobile && !Modernizr.tablet) {if (jQuery(containerClassId).parents('.js-pg-rail-tall__head').length) {videoPinner = new CNN.VideoPinner(containerClassId);videoPinner.init();} else {CNN.VideoPlayer.hideThumbnail(containerId);}}},onContentEntryLoad: function(containerId, playerId, contentid, isQueue) {CNN.VideoPlayer.showSpinner(containerId);},onContentPause: function (containerId, playerId, videoId, paused) {if (mobilePinnedView) {CNN.VideoPlayer.handleMobilePinnedPlayerStates(containerId, paused);}},onContentMetadata: function (containerId, playerId, metadata, contentId, duration, width, height) {var endSlateLen = jQuery(document.getElementById(containerId)).parent().find('.js-video__end-slate').eq(0).length;CNN.VideoSourceUtils.updateSource(containerId, metadata);if (endSlateLen > 0) {videoEndSlateImpl.fetchAndShowRecommendedVideos(metadata);}},onAdPlay: function (containerId, cvpId, token, mode, id, duration, blockId, adType) {/* Dismissing the pinnedPlayer if another video players plays an Ad */CNN.VideoPlayer.dismissMobilePinnedPlayer(containerId);clearTimeout(moveToNextTimeout);CNN.VideoPlayer.hideSpinner(containerId);if (Modernizr && !Modernizr.phone && !Modernizr.mobile && !Modernizr.tablet) {if (typeof videoPinner !== 'undefined' && videoPinner !== null) {videoPinner.setIsPlaying(true);videoPinner.animateDown();}}},onAdPause: function (containerId, playerId, token, mode, id, duration, blockId, adType, instance, isAdPause) {if (mobilePinnedView) {CNN.VideoPlayer.handleMobilePinnedPlayerStates(containerId, isAdPause);}},onTrackingFullscreen: function (containerId, PlayerId, dataObj) {CNN.VideoPlayer.handleFullscreenChange(containerId, dataObj);if (mobilePinnedView &&typeof dataObj === 'object' &&FAVE.Utils.os === 'iOS' && !dataObj.fullscreen) {jQuery(document).scrollTop(mobilePinnedView.getScrollPosition());playerInstance.hideUI();}},onContentPlay: function (containerId, cvpId, event) {var playerInstance,prevVideoId;if (CNN.companion && typeof CNN.companion.updateCompanionLayout === 'function') {CNN.companion.updateCompanionLayout('restoreEpicAds');}clearTimeout(moveToNextTimeout);CNN.VideoPlayer.hideSpinner(containerId);if (Modernizr && !Modernizr.phone && !Modernizr.mobile && !Modernizr.tablet) {if (typeof videoPinner !== 'undefined' && videoPinner !== null) {videoPinner.setIsPlaying(true);videoPinner.animateDown();}}},onContentReplayRequest: function (containerId, cvpId, contentId) {if (Modernizr && !Modernizr.phone && !Modernizr.mobile && !Modernizr.tablet) {if (typeof videoPinner !== 'undefined' && videoPinner !== null) {videoPinner.setIsPlaying(true);var $endSlate = jQuery(document.getElementById(containerId)).parent().find('.js-video__end-slate').eq(0);if ($endSlate.length > 0) {$endSlate.removeClass('video__end-slate–active').addClass('video__end-slate–inactive');}}}},onContentBegin: function (containerId, cvpId, contentId) {if (mobilePinnedView) {mobilePinnedView.enable();}/* Dismissing the pinnedPlayer if another video players plays a video. */CNN.VideoPlayer.dismissMobilePinnedPlayer(containerId);CNN.VideoPlayer.mutePlayer(containerId);if (CNN.companion && typeof CNN.companion.updateCompanionLayout === 'function') {CNN.companion.updateCompanionLayout('removeEpicAds');}CNN.VideoPlayer.hideSpinner(containerId);clearTimeout(moveToNextTimeout);CNN.VideoSourceUtils.clearSource(containerId);jQuery(document).triggerVideoContentStarted();},onContentComplete: function (containerId, cvpId, contentId) {if (CNN.companion && typeof CNN.companion.updateCompanionLayout === 'function') {CNN.companion.updateCompanionLayout('restoreFreewheel');}navigateToNextVideo(contentId, containerId);},onContentEnd: function (containerId, cvpId, contentId) {if (Modernizr && !Modernizr.phone && !Modernizr.mobile && !Modernizr.tablet) {if (typeof videoPinner !== 'undefined' && videoPinner !== null) {videoPinner.setIsPlaying(false);}}},onCVPVisibilityChange: function (containerId, cvpId, visible) {CNN.VideoPlayer.handleAdOnCVPVisibilityChange(containerId, visible);}};if (typeof configObj.context !== 'string' || configObj.context.length 0) {configObj.adsection = window.ssid;}CNN.autoPlayVideoExist = (CNN.autoPlayVideoExist === true) ? true : false;CNN.VideoPlayer.getLibrary(configObj, callbackObj, isLivePlayer);});CNN.INJECTOR.scriptComplete('videodemanddust');